Learn about the project scenario, client concerns, and implications
for social interactions & the future.
In this semester-long course groups of student will use design research methods to tackle a real client objective with regular presentations and feedback.
From the client:
Designing for a billion sensors…
In our daily lives we encounter sensors all the time, like when a motion sensor turns a light on in a dark place, or when a carbon monoxide detector tell us that the air is becoming hazardous. Sensors extend our abilities to see, hear, and feel far beyond what we ourselves can take in – from arrays of telescopes sensing the edges of the universe to nano-scale biological sensors amplifying our own sense of smell.
In a world with a billion sensors, how will we make sense of it all?
How will sensors change the way we perceive not only our environment but ourselves and others? How will sensors change the way we live and work? What interfaces, services, devices and experiences will be necessary to make sense of it all and avoid sensory overload?
What are key problems this data can be used to help solve, what new troubles can we anticipate it creates?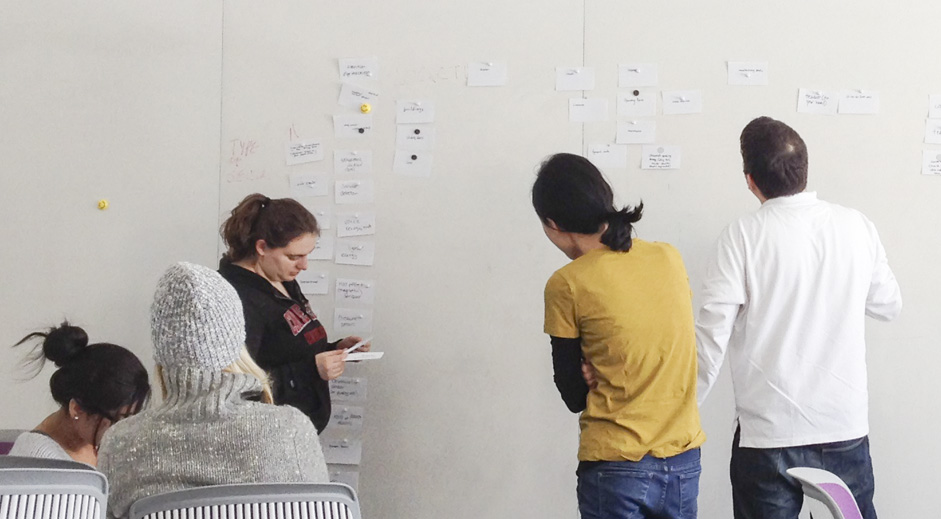 Class exercise mapping different types of sensors and spaces they could occupy. 
Defining our territory of interest which represents the shared focus of the team,
anticipated activities, and identification of stakeholders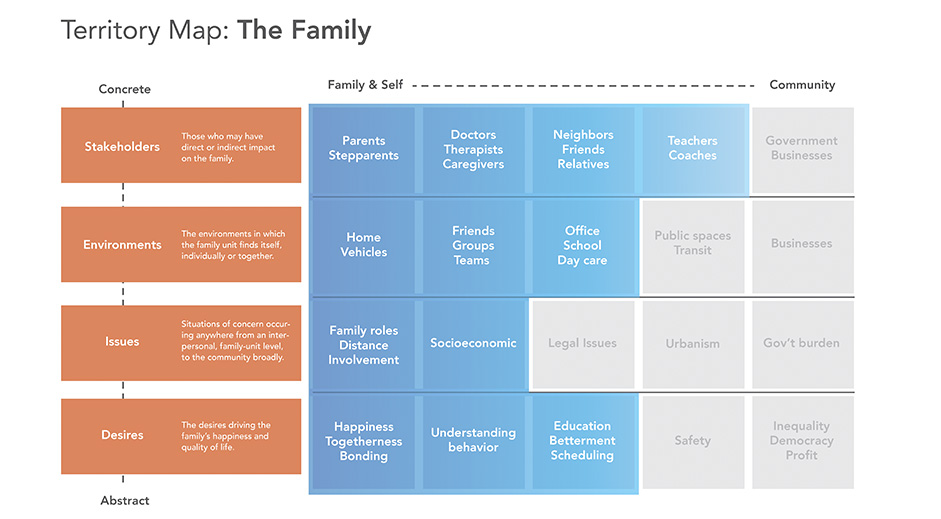 Final solution. The blue area denotes our area of interest (digitized by Chris)
The first deliverable was a territory map to the client which involved us completing rapid brainstorming sessions to figure out what our interests were and how sensors fit into the space. We met several times and some clear shared interests came out immediately, like habit change and personal identity, but we struggled to see how and where sensors could come in and why they were necessary. We definitely wanted to make sure the sensors were the appropriate solution to whatever problem we were going to tackle.
Our biggest issues that we wanted to overcome was privacy: we believed that people would be unnerved by smart environments. Like all new technology, we predicted it could be something that people could adapt to, but it would be like designing for a sensibility we didn't feel exists yet.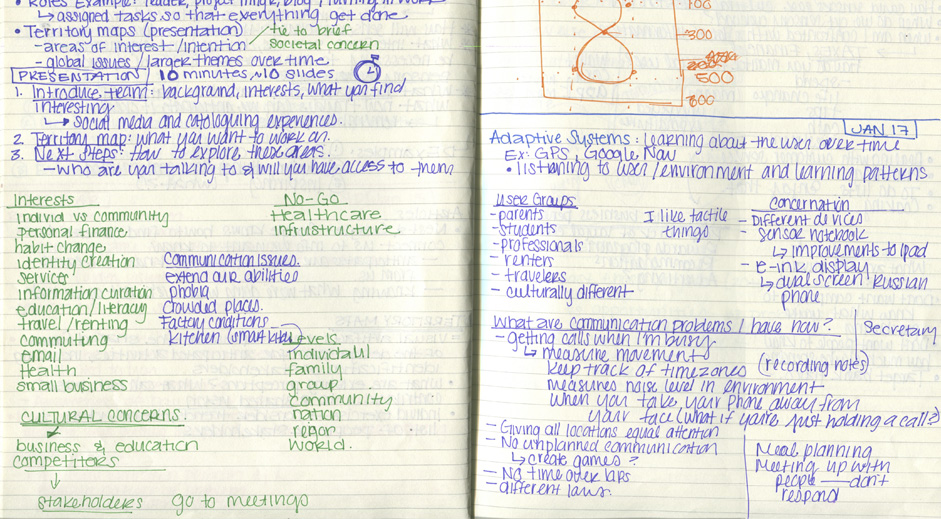 My notes from our initial meeting.
Finally, we seemed to have a break through when we thought about sensors in the home, specifically in the context of family. Security-wise, it was already an area where we felt that monitoring was happening (parents are trying to take care of the children to make sure they're safe and practicing good habits) and we believed that sensors could come in as a way to encourage communication among family members. For instance, sensors might be able to detect the things something that a child feels but isn't explicitly said and potentially bring the situation to the parent's attention.
We didn't want to go too deep into potential solutions before consulting our client and professors, so we began mapping out the space as broadly as possible on the axises of self to community and concrete to abstract spaces, shown above. We then marked the area that we felt had we fit the timeframe and our interests in blue, which was the top left quadrant.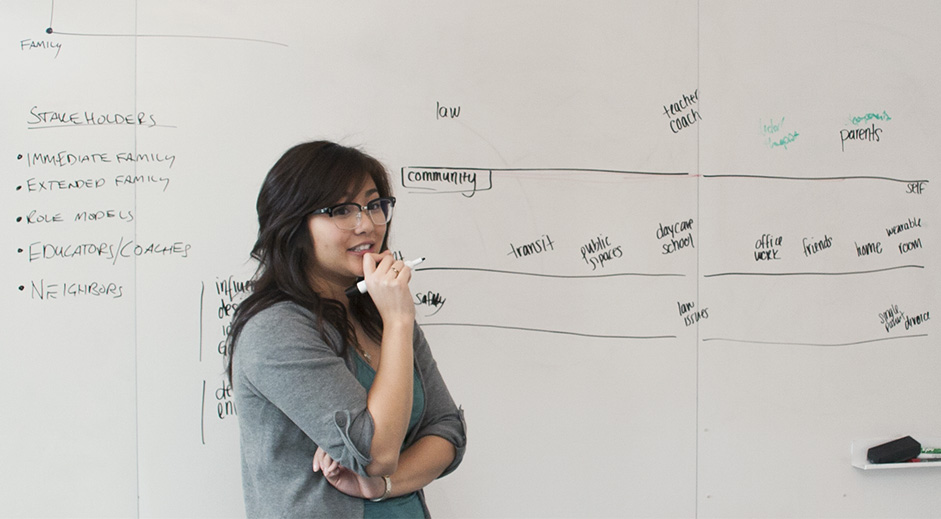 Initial drawing of our territory map.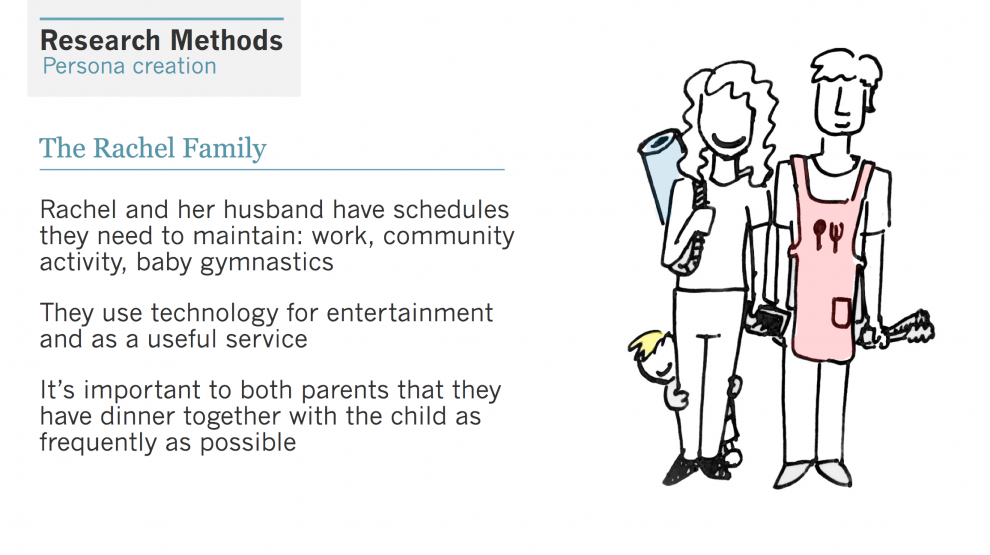 The persona we created for the family we wanted to work with. (Slide from presentation)
Learning & doing user experience research methods
in order create a better user experience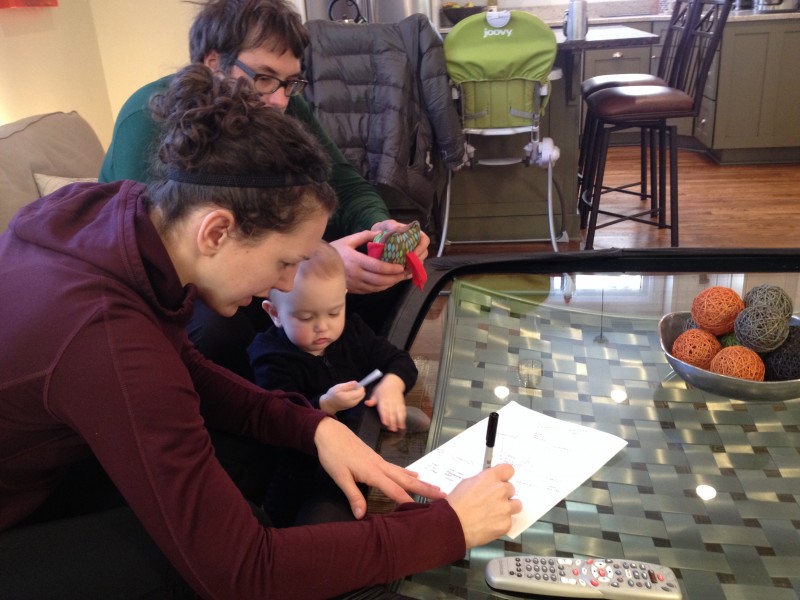 Interview with a family
Over the course of the semester we learned about and used server research and synthesis techniques in order to collect and evaluate different parts of concept and interface.
Exploratory research methods: To flush out our area of interest and learn more about similar work being done. This involved extensive literature reviews, expert interviews, and a 50+ participant survey.
During this stage we were very interested in helping parents with tasks that didn't interrupt their feeling of 'being a good parent.' For example, while several parents recounted the moment when they most felt like a good parent when they took care of their sick child, staying up with them in sometimes messy situations. While this was a difficult task, it was also very rewarding to them.
Some of the initial findings from the survey were…

Generative research methods: We began meeting with families to learn about their concerns and the dynamics of their families in order to discover potential opportunity areas. We also designed and sent out a cultural probe to five families to be filled out by family members.

Example responses from our cultural probe postcards
During this point, we have had the insight we might be focusing too much on the parents' side and not developing a system that tangibly benefits the children as well and was useful throughout the life of the family, not just while the children were toddlers. We developed a concept around helping the whole family.
Evaluative research methods: Once we created an initial idea, we did several rounds interviews with parents to test our initial ideas through speed dating. This ranged from very surprising home systems ('a smart crib') to more common technologies, like an app.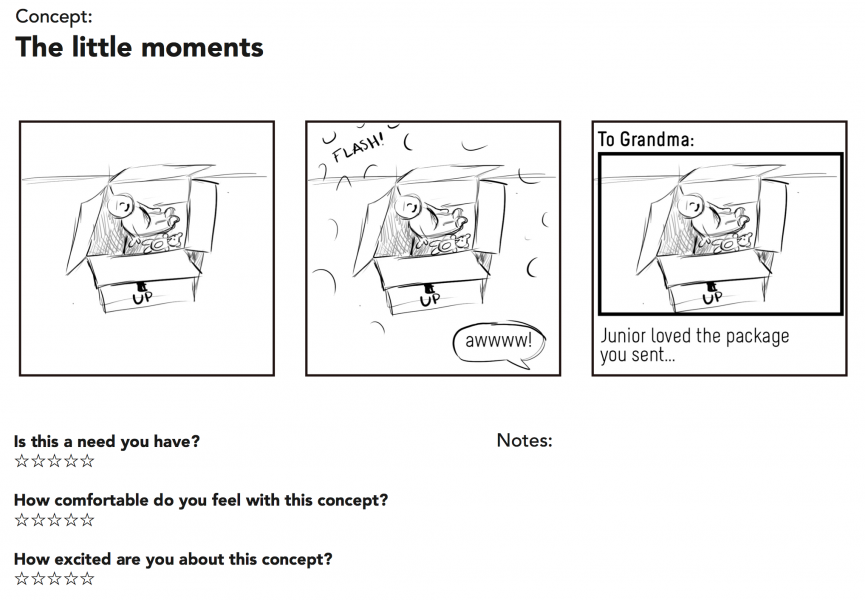 Speed dating example
After finding a concept that resonated with families, we began rounds or refinement to develop the most important functions and user interface.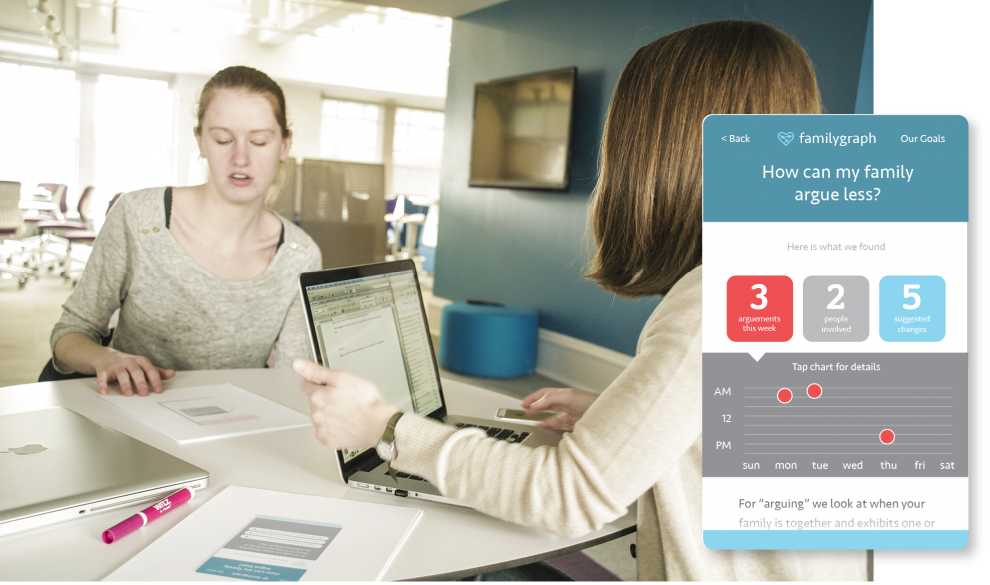 Key pivots in our design process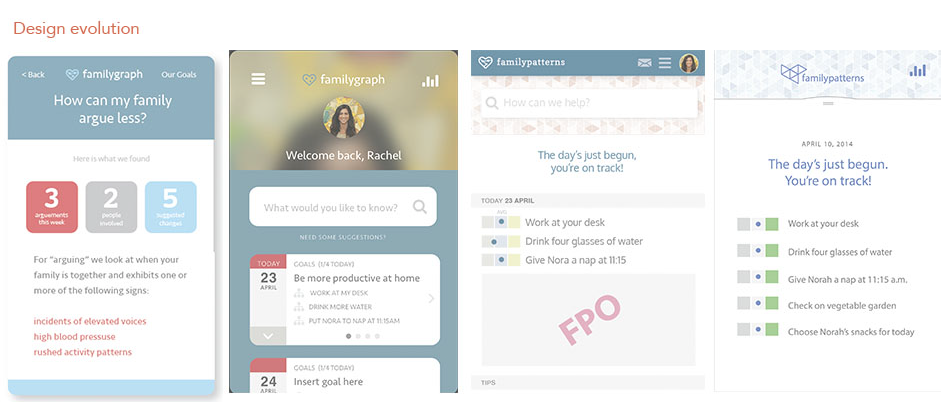 Partial list of some of the design concepts and visual styles we tried.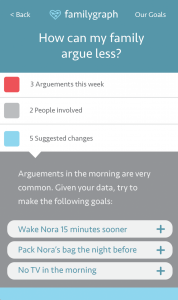 There were many. It was really rewarding to get to step out of our design bubble and continually test our concepts with participants and get feedback. Once we developed our idea of addressing family-wide goal setting through machine learning smart home technology we began testing different ways to approach the problem.
One example was that during the first two stages I showed above was finding the right information to resonate with people. Our participants liked this idea goal setting and recommendations as a concept, but they thought our suggestions were too obvious or over-simplified the problem. For example, one of our recommendations to avoid arguing in the morning was to wake up the toddler a 15 minutes earlier. (Example to the right, designed by another group member)
Once the concept was nailed down, another design pivot was thinking about a dashboard and where you have a quick overview of how you're meeting your "micro goals" (simple steps to help you accomplish a bigger goal, like more family peaceful dinners). I proposed the name and concept of "FamilyPatterns" emerged because the system would be constantly tracking your family's habits throughout the day, learning to work with them as it nudges you in the right direction. It recognizes that each family is unique and is willing to learn about you. The visual design work was also created by me.
Example flow I presented to my group: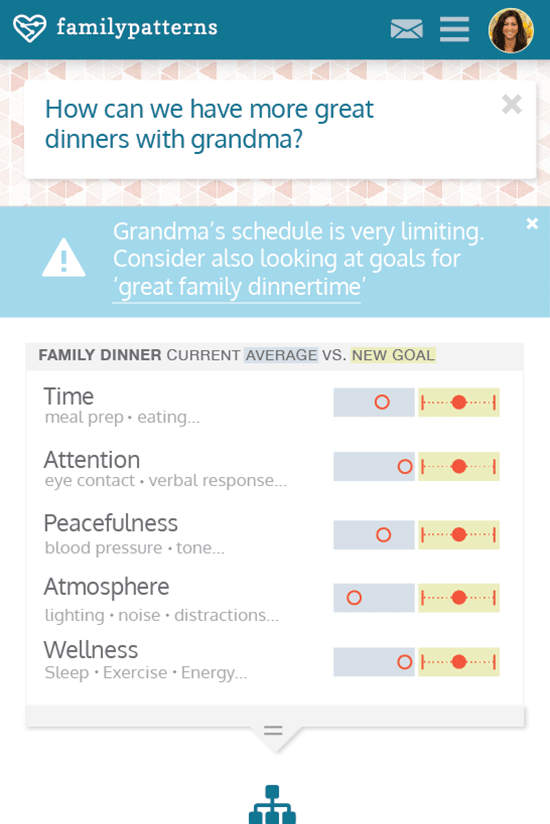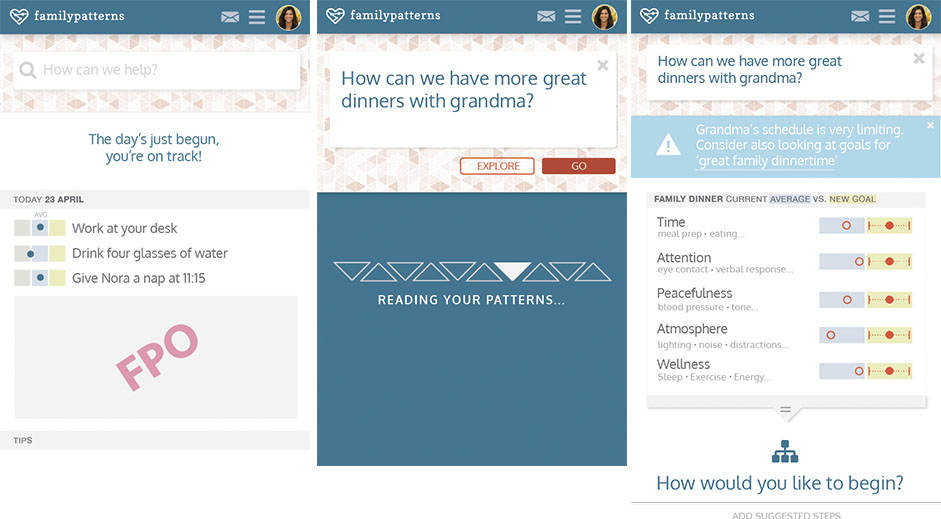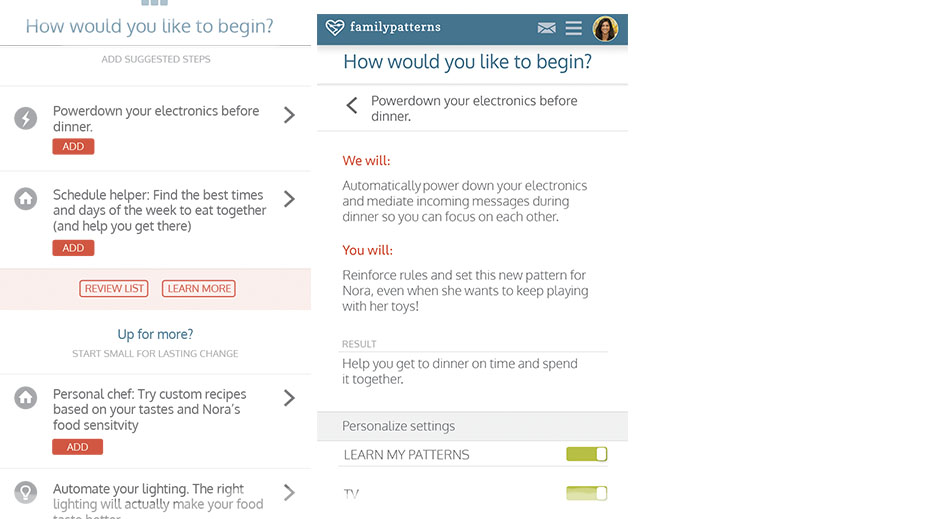 Definitely too much information, but a step in a new direction.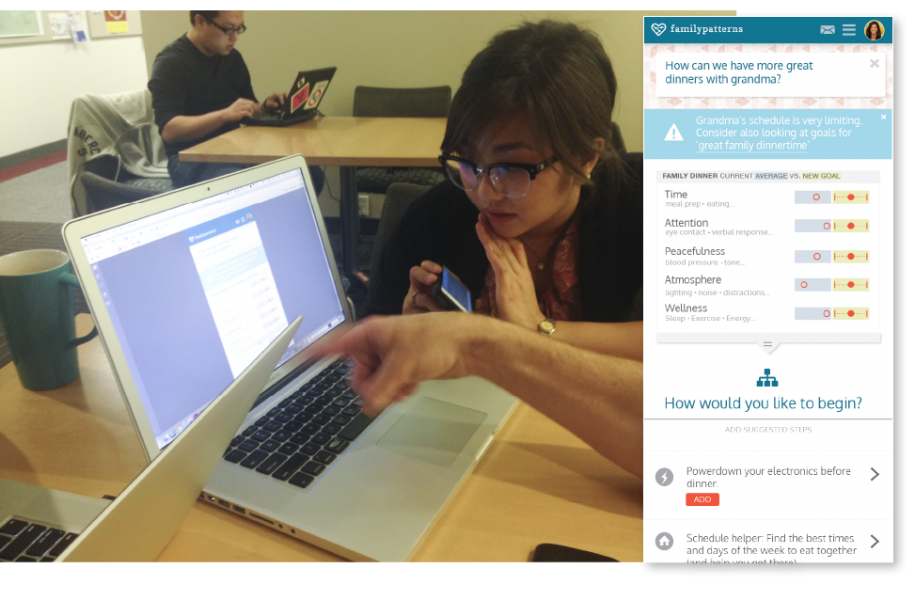 We ultimately ended up simplifying the amount of information and became interested in our preferred use-case: the system recommending goals based on what it knows about you. We became interested in the space between what the family didn't know but that the system did know.  This idea of exploring was ultimately presented in our final video sketch.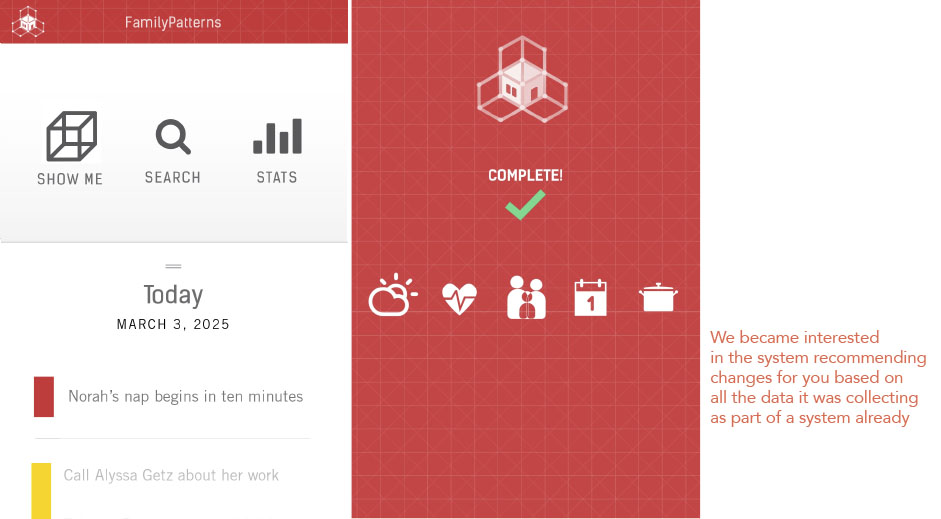 Effectively working on a team to design a product.
And that product is created through the combined strengths of each team member.
A big part of this project is learning how to work on teams effectively. We will always work on teams and collaborate with others during the design process so it has been treated with as much weight as research & design. This means working in teams well so the product comes out stronger than the some of the parts, not just dividing tasks. We have covered: setting up working agreements/contracts, learning was to avoid issues, or productively respond to team issues. Other creative/research side, our Research Method for Human-Centered Design course has taught us techniques for creatively designing together to explore, generate, and evaluate our design process as a team.
Our groups were selected by pairing us with people who work and learn differently from us, as indicated by a Kolb learning style assessment we took at before the course started.
My learning style: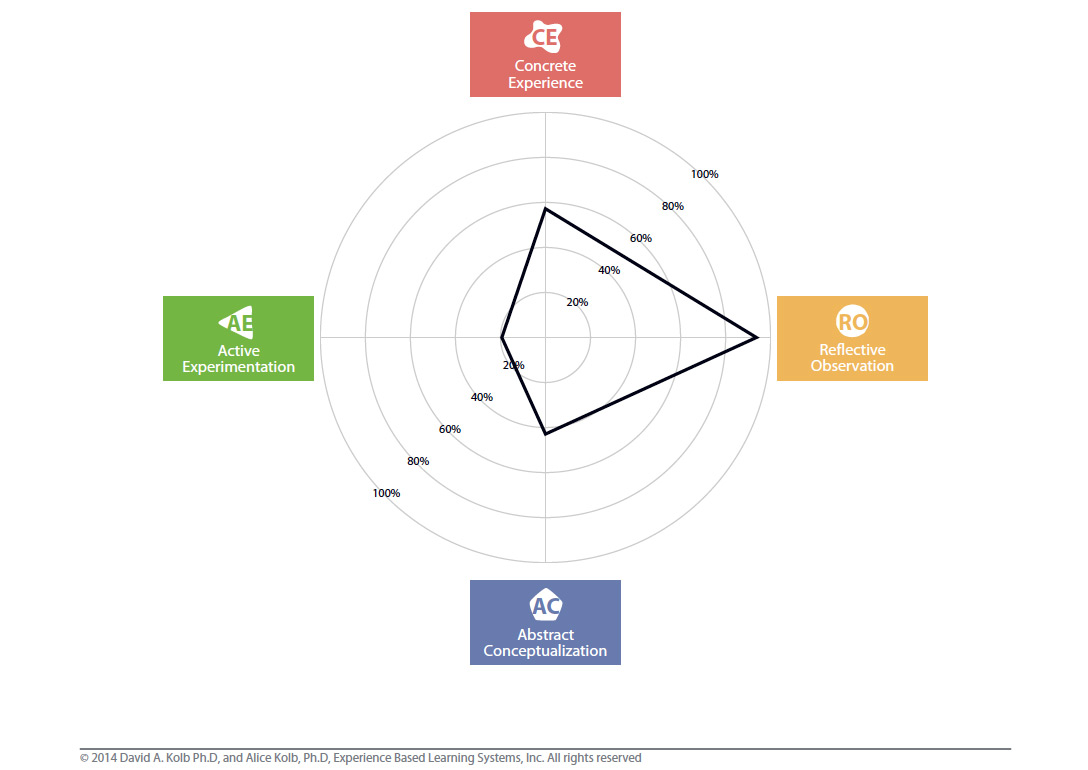 We mitigated potential conflicts by creating a contract at the beginning of the semester that we revise periodically to make sure it remains relevant to us. This sets expectations both for the project and for each member of the team. As a team, we also decided to attend Dr. Joanna Wolfe here at CMU on 'Communication in Teams,' which gave us some really helpful information one structuring a group dynamics and responding to communication issues.
We also had a workshop with Dr. Laurie Weingart, Professor in the Tepper School of Business talk to us about 'team conflict and perception gaps.' We went through different exercises reflecting on our current and past group dynamics to understand both the pros and cons of conflict (healthy conflict) and ways to overcome problems that might occur.
Luckily, it has been a positive experience working with Chris and Andrea. We compliment each other's skills, push each other when needed, and can trust the other members of the team to be accountable for their work. We have productive conflicts that have led into great discussion topics.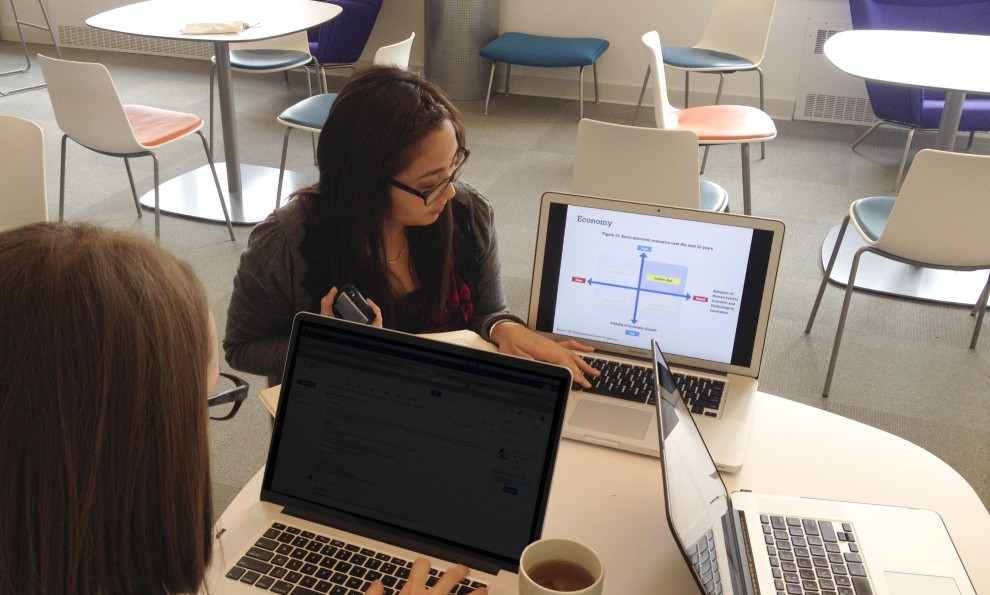 Five presentations to the client during each stage of research
and a video sketch of our final idea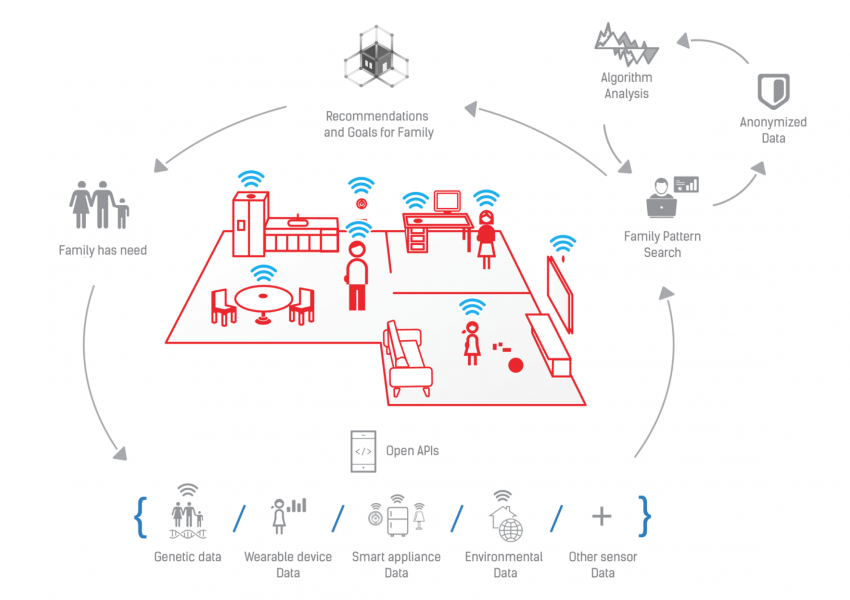 Ultimately our solution was platform that worked together with your home's already existing APIs in order to learn about your family and suggest goals to improve your relationship with each other. These would take the form of simple steps that would integrate with your already existing patterns in order to successfully create new habits. 
For example, in one part of of the video we showed an example of a 'nudge' where there are passive signals of something he could do (have his daughter participate in the cooking process) but he is free to ignore them if he chooses.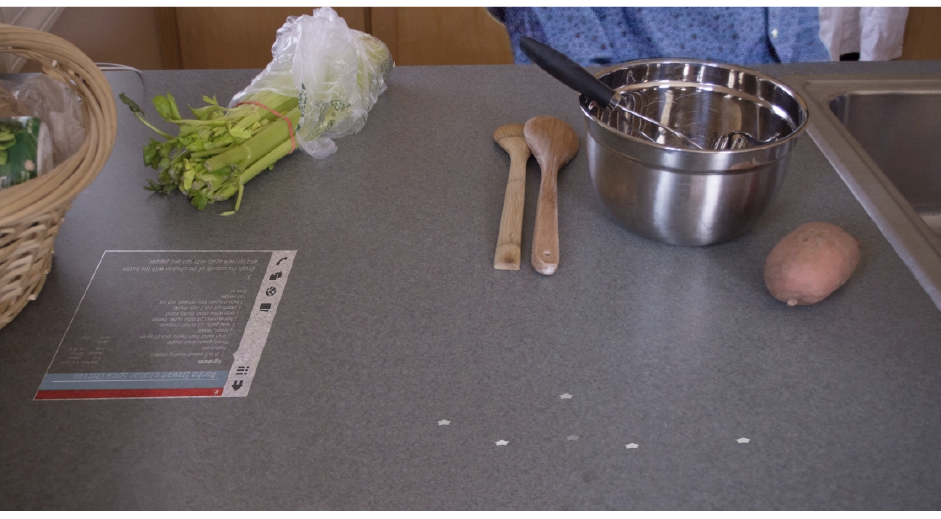 Overall, I was really happy with the learning experience this project created: Going from challenge to research to final solution in a short amount of time. I learned valuable human-centered design research techniques that I ended up using during my internship over the summer. And, during the winding course of our concept, we also learned about a variety of very interesting topics like: habit-change, family roles, sensored environments/smart homes, life-logging, internet of things, passive alert technologies, the technology paradox, and designing for the future (our solution is designed for the year 2025).
Our final presentation and video sketch was well received and sparked a lively discussion among the faculty and visitors invited to the final critique. While there are things that I would change about the design and emphasis in our presentation pitches, I am am happy with our final concept and our path to getting there.